MOTORISED BLINDS
At Acorn Blinds, we specialise in automation. Our Motorised Blinds are available in both hardwired and battery charged options, we can automate both roller and roman blinds, our Blackout System, Skylights and Rooflights. With over 500 fabrics available to choose from, we are confident that we have options available for you.
Available in Cork, Tipperary, Kerry and Dublin, we have you covered.
Motor Options
The environment we create within our homes and offices contributes significantly to health and well-being in our daily lives. Somfy motor and control systems enhance our living environments and well-being by adding convenience.
By choosing Somfy automated blinds, you maximise the functionality of your blinds and gain a much desired flexibility that is simply not possible with a manual system.
The benefits of Somfy automated blinds and include: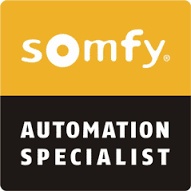 Benefits
Convenience
With the simple touch of a button you can move your blind or curtain to whatever position you like. You can also add sensors and timers so your products work for you even when you're not at home
Energy Efficiency
Reduce your energy usage by controlling the amount of heat and light entering your home. Keep your home cool in summer by reflecting the harsh heat of the sun but allow the sun in during winter to enjoy natural warmth and light
Longer Lifespan
Manual operation can damage blinds and curtains through excessive force or improper use. Somfy's smooth and controlled operation of blinds and curtains ensures both maximum functionality and a longer lifespan of the product
Safety
Loose cords and chains are a danger to young children. With Somfy automated blinds and curtains, the cords and chains are completely removed, providing peace of mind for you and a safer environment for your children
Quiet and Discreet
Somfy's world leading motors are fully concealed inside the tube of the blind. With the simple press of the remote control you will enjoy the ambience and impress your guests with a quiet and sophisticated automated blind system